Hi Alex and John,
I just want to thank you guys a lot for helping me last time. This is
Yvonne by the way (click here to read her abortion story) . The reason I message you today is because I want to show
you proof that I'm definitely not pregnant anymore. I just thought maybe
you might want to know what happened to your previous patients like me.
A week after the procedure last Feb.4, I tried to check using PT to see if
I'm not conceiving anymore. I was a bit worried coz the result still has 2
red lines. Back then I was still bleeding. But I trusted you guys and
waited another 1-2 weeks or until the bleeding stops. I tested it again
today, tho i already stopped bleeding last 3 days ago. And hooray! I only
saw 1 line this time (see attached photo).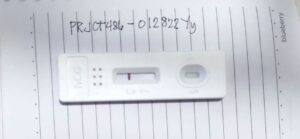 Thank you so much again. You guys brought me back my life and saved my
future..You both are the best. I will definitely refer you to someone who
might be needing help. Of course, I'll do it discreetly..