Abortion pills in Cebu
Cebu  has been a concern for Project 486 because of the alarming number of women getting scammed in the area.  Early this year, Cebu suppliers  had been aggressively pursued by the authorities (click here to see related news: news 1  news 2 ). However, it seems the communication arms (operator of their contact numbers and social media accounts) of those apprehended (jailed) are still taking orders, receiving payments but do not deliver the needed medicines leaving desperate women more hopeless and devastated than they already are.
11  Stories from Cebu
Story no.1
Abortion with herbs failed so she looked for pills online
In the first story below, featured is the abortion story of a certain Janet (not her real name), a 29 year old mother of two. Some blogger recommended Project 486 to her when her attempt with alternative herbal medicines failed.  Her failure with herbal alternatives made her doubt this recommendation so she typed " Where to buy abortion pills in  Cebu, Philippines? " and  much to  her surprise, Google came up with a business listing of abortion/abortion clinics in Cebu City.  She texted them and  not very long, they replied. With the exchanges of text, Janet had the impression that whoever set-up the business listing is shady. Abortion clinics and abortion in general are illegal in the Philippines so the business listing was a trap to begin with.
Janet then proceeded to  contact Project 486 as earlier recommended by the blogger.

We do appreciate it when bloggers recommend us but we don't approve of any alternative abortion methods as they could be dangerous and without scientific merit. We strongly advice women to stick to the best that science can offer, the safest and most effective option for termination of early pregnancy — Medical Abortion through the use of the abortion pills Mifepristone and Misoprostol.
Janet had a productive consultation session (over the phone)  with her assigned consultant.  Her doubts and apprehensions were dispelled and in that moment, she truly felt that  she is indeed getting assistance from the right people.
This is her story:
Not painful yet successful abortion
It was painstaking.
I have a 4 year old and a 6 month old baby, when I realized that  I am pregnant again.
We are currently settling issues, and the truth is I am the only one supporting our kids even if we both have stable jobs. (For similar story click here)
He was busy prioritizing other things rather than us. More so, he's busy flirting with other women that he reneged on his responsibilities with our family. To my dismay, he keeps infecting me with the STD he contracts because of his promiscuity .
I know there wouldn't be enough reasons as to what I did, but I was desperate. I am alone. And so I resorted to searching the internet. And I came across a blogger and immediately contacted her. She directed me about vit c overdose, dong quai, and parsley intake and I religiously followed it but a week passed and nothing happened.  So she said I must try contacting Project 486. And so I did.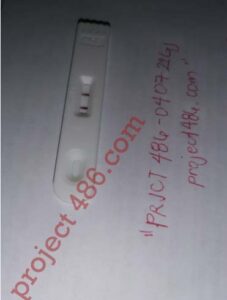 They were very accomodating. And I was assigned under the care of Mr. John.  He comforted me during our consultation and made sure it will all be alright. I was scared. But  his reassurance made me go all the way.
The meds were packaged very discreetly, and then I engaged to the process the next day.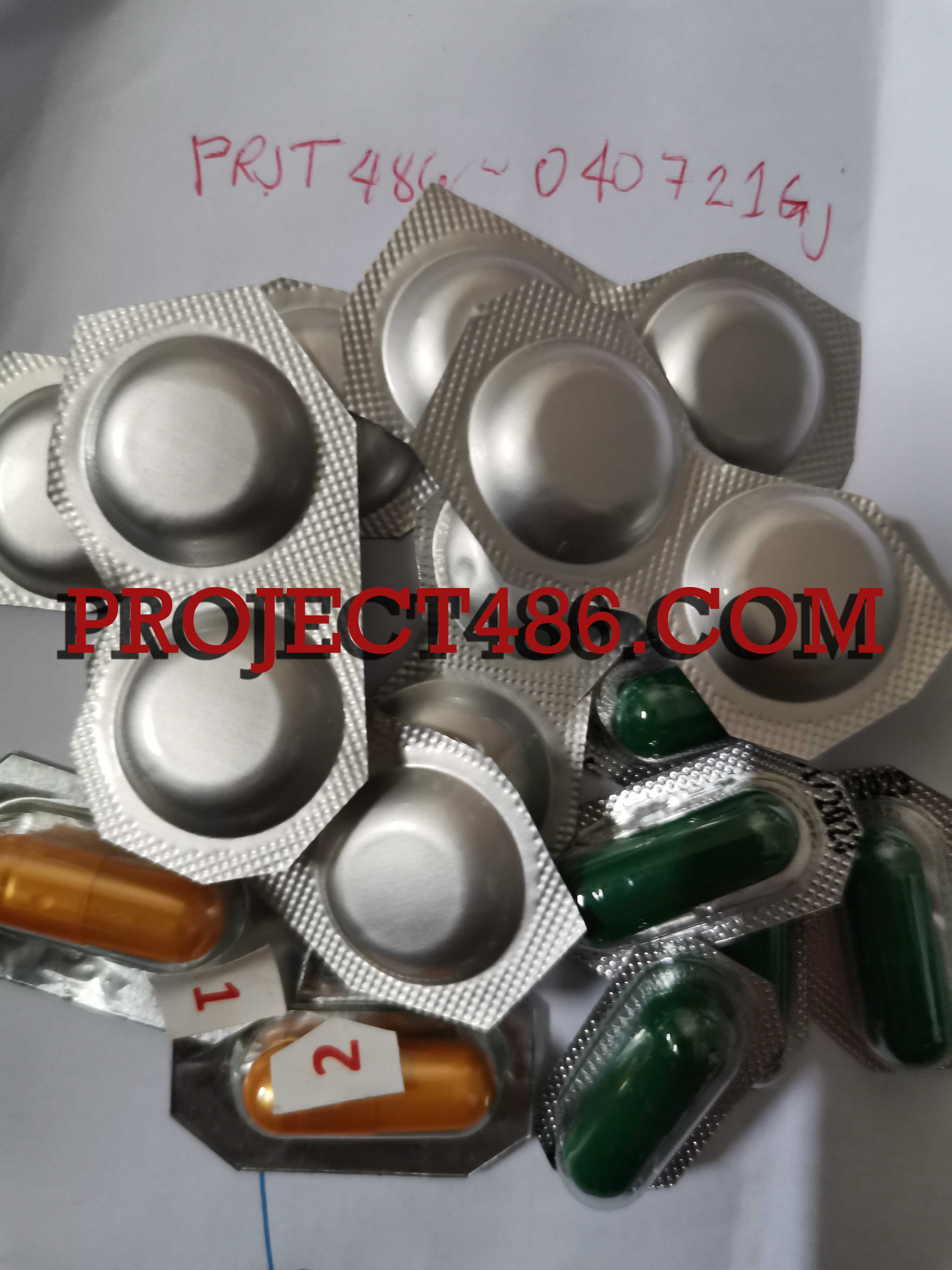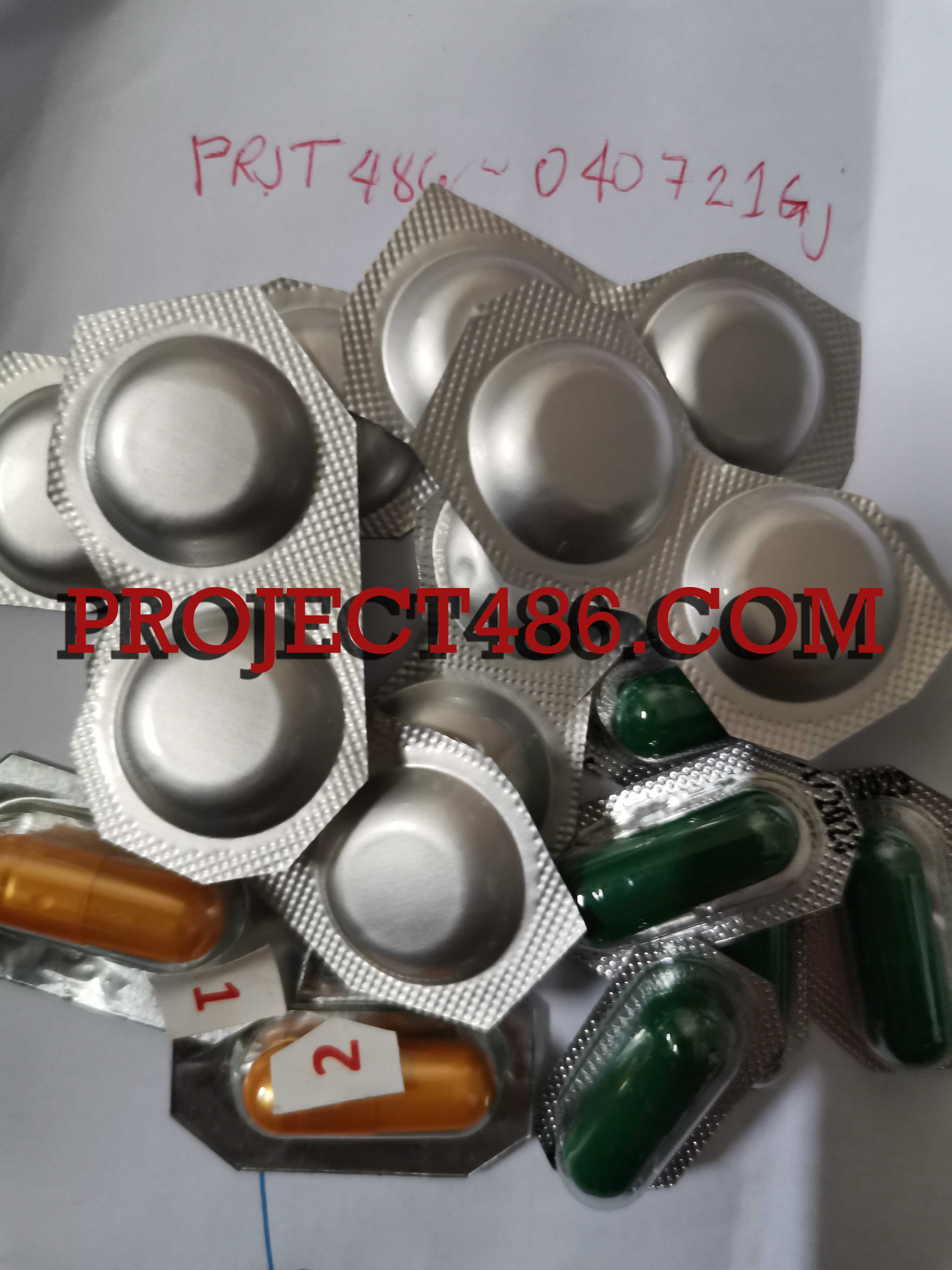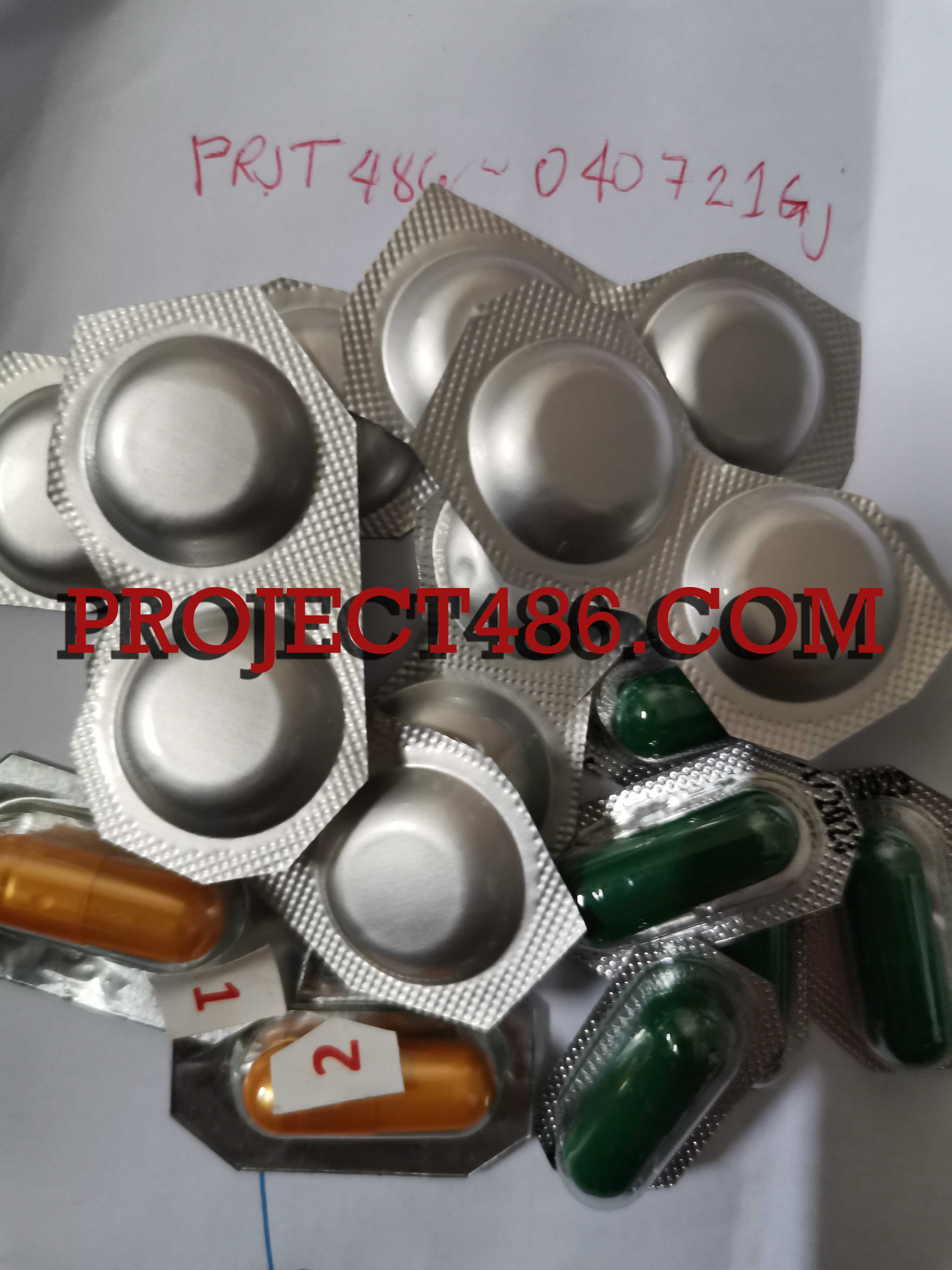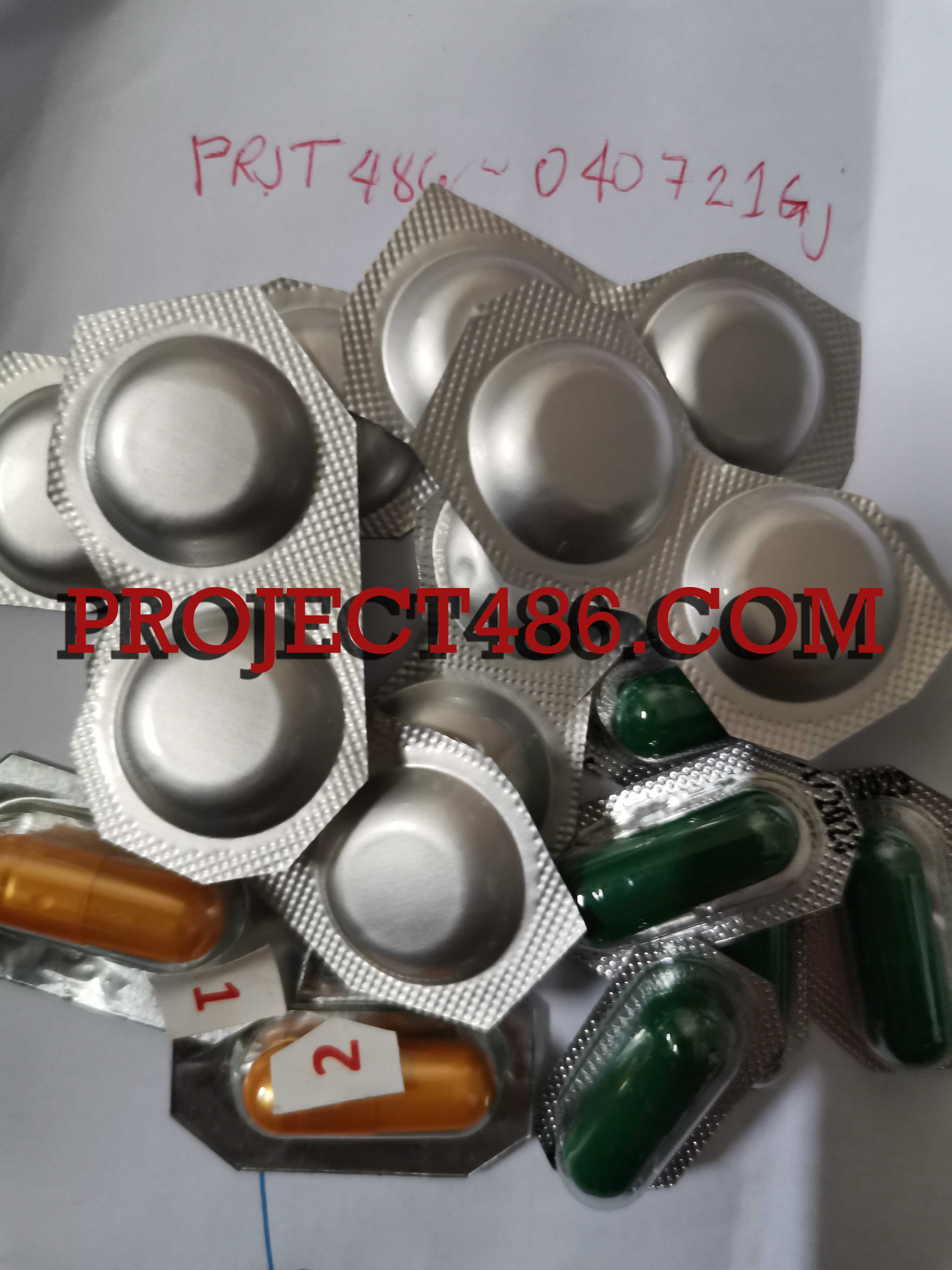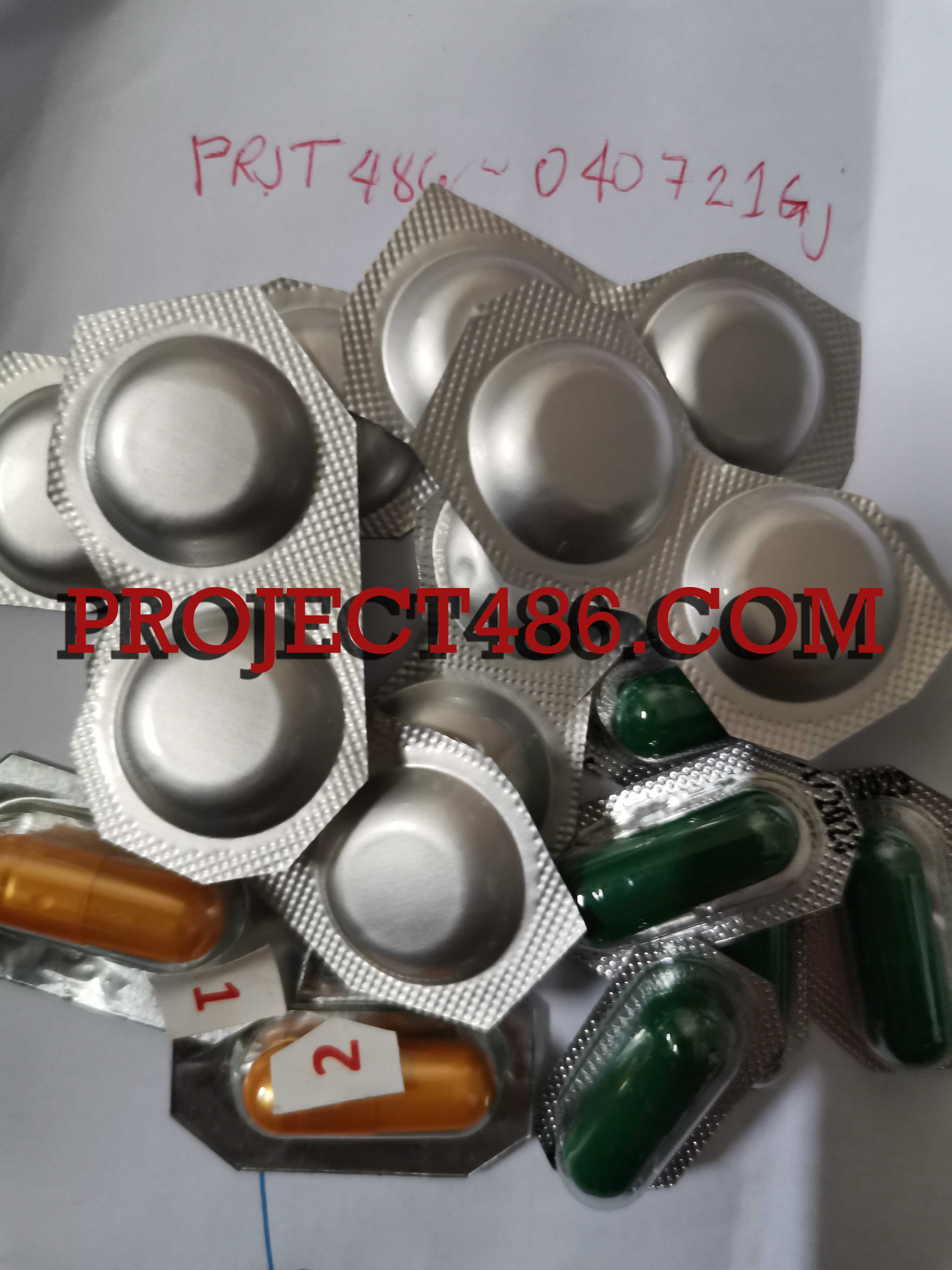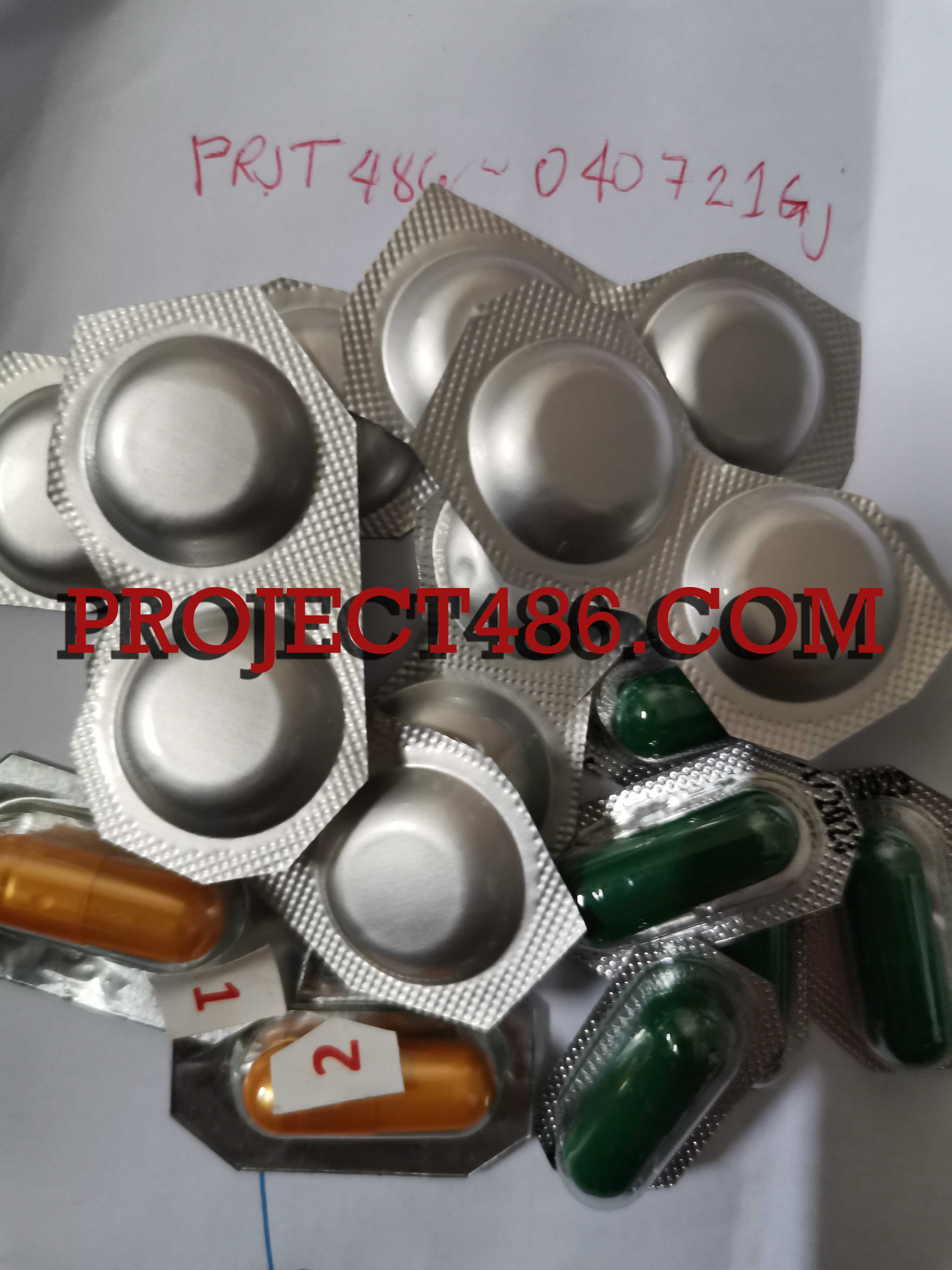 Fasting and mifepristone for two days, and day 3 came.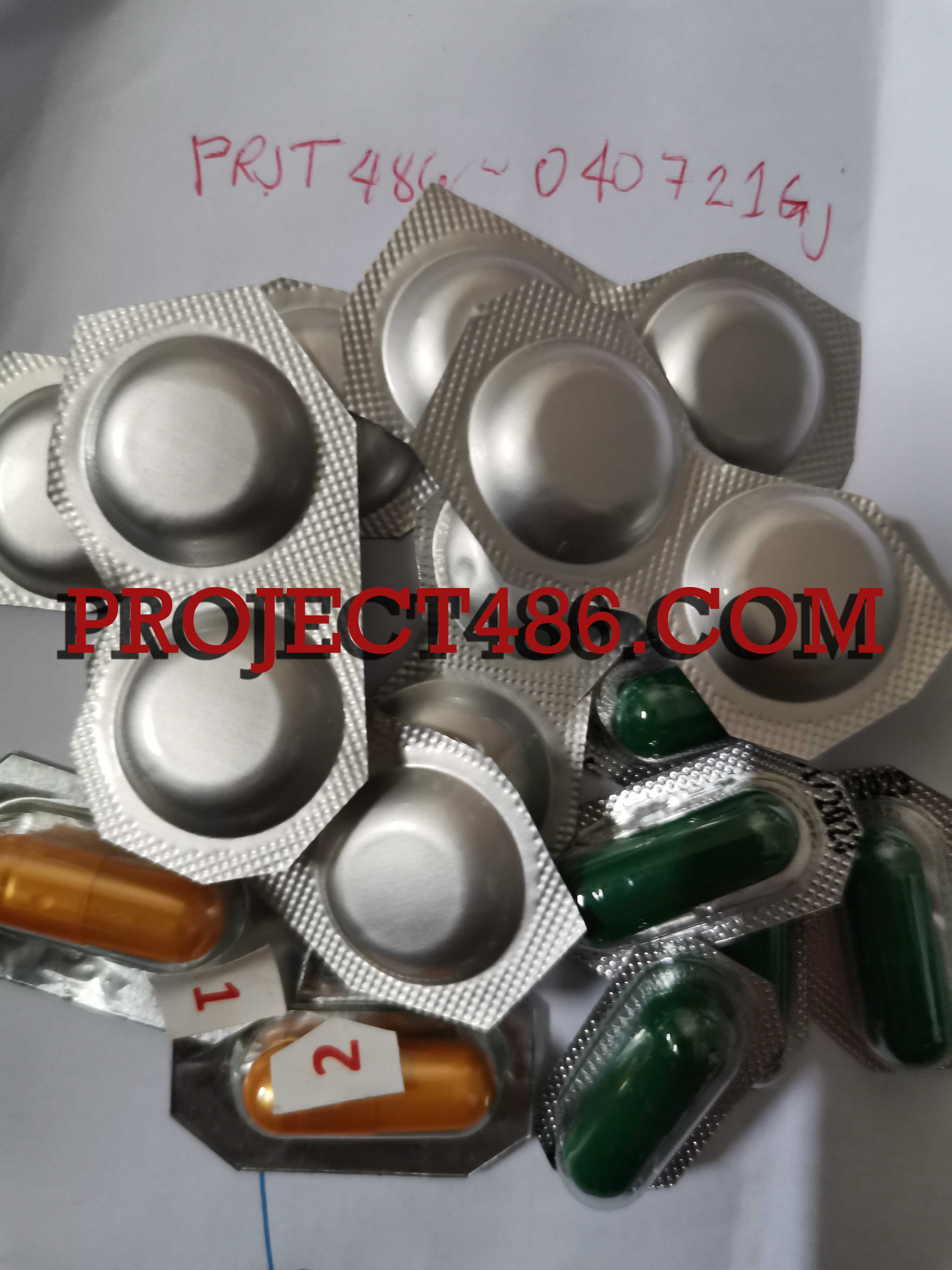 Again, I followed Kuya John's directions and he was with me all the time –
Reminding me every step.
At 8 am, I put the misoprostol tablets  in my vagina. I felt discomfort in my stomach but that was not painful.  Few hours after, i felt the urge to defecate so i did it on the diaper. I was alone, so I am fixing myself.   I felt a surge of water, i thought my water broke.
At 11am, I drank a cup of water.  At 12 noon, I  placed the misoprostol tablets in my buccal cavity and waited. Again there is discomfort. But I remained at my position, then again there 's a gush.
At 3pm, I swallowed the remnants of the misoprostol tablets  with water and at 4, place another set of misoprostol for buccal intake. Kuya john told me I can now sit and stand. I only saw
watery blood in my diaper so i walk a little and I felt I want to defecate again so I got the dipper. As soon as I  was positioned, I was able to defecate then a pool of blood rushed out from my V … followed by fetus.
I can only see its feet, then the placenta followed. Then I stayed in that position crying.
I texted kuya john and told him I  saw feet. He replied to me that i can just take pictures of the other things that came with  the fetus , not the whole thing.
I was crying and I barely managed to look at it. But Kuya John's comfort made me stand again and fix everything.  I know there's nothing to be proud of. But yet, somehow, I am hoping for forgiveness. Thank you Project 486 for staying with me and not judging me.
Janet, 29,  Airline Employee
Cebu City, Philippines
______________________________________________________________________
Story no. 2
She wish not to break her parents' hearts so a college student  from Cebu made a tough decision
Glad she did it with the safest option possible and with the right people too
Here is another story from alias Abigail (patient code: PRJCT486-102921MA), a  recent patient from Cebu who contacted Project 486 on the last week of October 2021 and had a successful procedure that was completed on Nov 9, 2021.
Oct 30, 2021 – This is what she shared in our comment section after she had a very informative consultation with her assigned consultant:
I'm a college student when I found out I was pregnant. At first, I don't even know what I'm going to do about this matter. I was petrified because I know my parents will get disappointed on me. My father is a police. He's very proud of me, especially my mom. At this age, I'm not ready to become a mom. So my partner and I decided to do such a perilous decision. We visited a lot of abortive clinic but it was closed. So I searched on google then I found some contact number that says they can help me with my problem. But I sense that it was scam because they tell me to send first the money. So I searched again and I found someone's comment. She says that project486 help her with her problem so I searched in google and share about my matter. I chatted them and sir Alex replied immediately. He recommended me to sir John. He was very kind to me when we spoke on phone. He never judge me by my decision and I can sense that I can trust this project486. Sir Alex did help me and explain to me what I'm going to do. Next next day I'm going to do the procedure and hoping it's going to be success. I'm going to thanks in advance to sir John and sir Alex for being there when I don't even know what I'm going to do.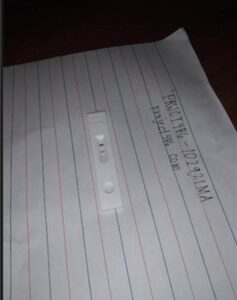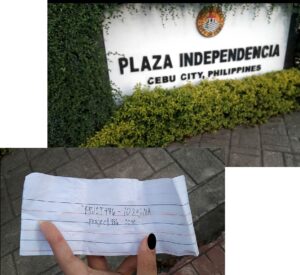 (click link to play video clip)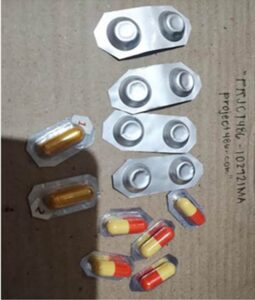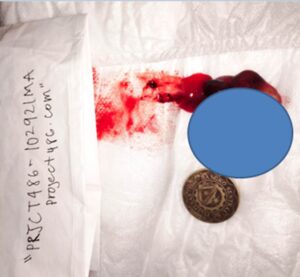 Here is a glimpse of the text message exchanges between Abigail and her assigned consultant who was monitoring her closely during the procedure.  Technical support is a very important part of the procedure. The smallest mistakes on the part of the patient can cost unnecessary delays (if not outright failure)   but the smallest modifications/adjustments  by her assigned consultant can all the more improve her chance of completing the procedure early.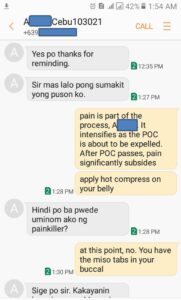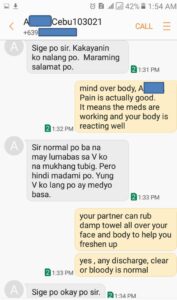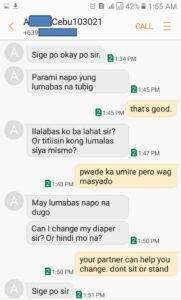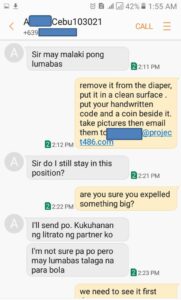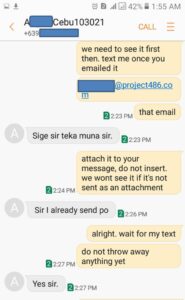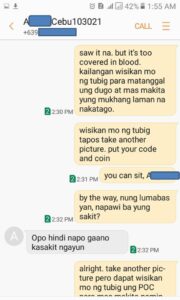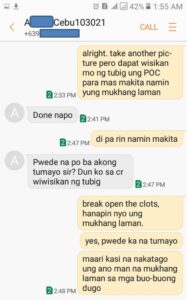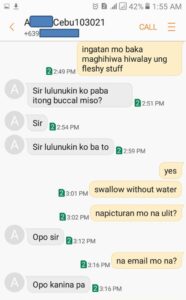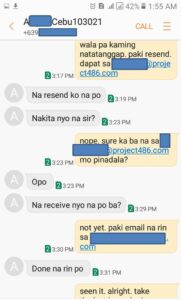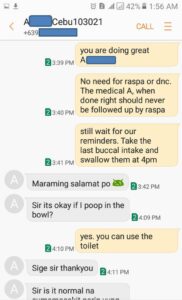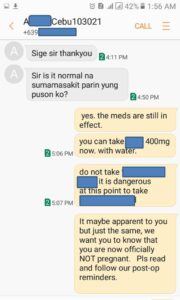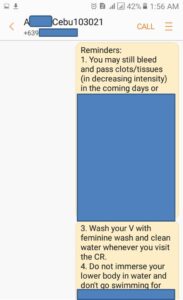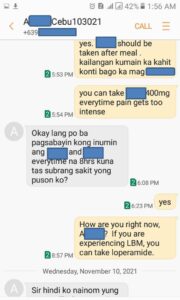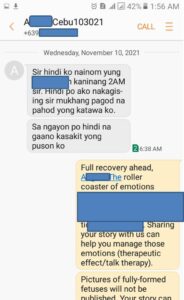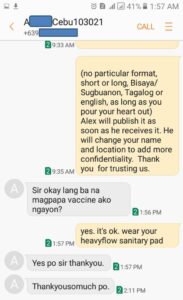 Story no. 3
More and more women from Cebu are getting scammed. It's becoming the norm.
This is the story of Juris, a patient from Cebu who got scammed by someone who is still using the account of someone who's already in jail.  Juris was "ghosted" once she completed the transfer of funds. Such story is becoming the norm especially in Cebu and Central Visayas  where most med suppliers got busted and jailed  by the authorities in the early months of 2021. We have  little sympathy for these jailed suppliers because what they were selling were the wrong combination of meds in the first place. Also, they were giving non-standard instructions that are downright dangerous. . They are the major contributors to the frequent incidence of abortion-related complications in the region.
It is understandable that Juris had instantly developed "trust issues" as a consequence of getting scammed.
Patient's name : Juris
Last Menstrual Period (LMP) : 2nd week of December
First day of Missed Period:  3rd week of January
Date of conception (unprotected sex): Dec 24 2021 – Jan 8, 2022
Date of procedure: February 5-7, 2022
————————–
It's been 29 hours since the procedure was completed. I won't go into
details as to why i came with this decision. All i can say is during my
toughest days, Sir John & Sir Alex was with me along the way.
Here's how it went…
I'm from Cebu, the moment i knew i was pregnant… i became desperate and
impulsive. Went to google and search for abortion pills, paid it right away
through Gcash in the end i was badly scammed by J. Guirigay (related news). It was too
late for me to know that this guy is already in prison but his number is
still active, somebody else is using it to scam desperate women like me.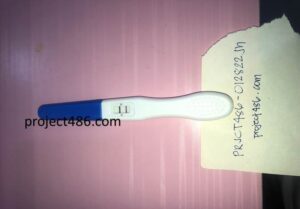 Went on google to search for reliable sellers, that's where i found
project486 blog. I just read at least 3 reflections on their blog and i'm
ready to take risk again. I emailed them and because i was desperate &
anxious, i sent multiple emails  good thing they replied after a few
hours.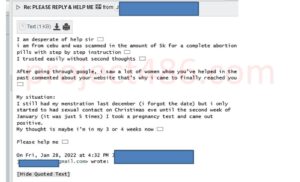 Followed their instructions and got my free consultation with sir
John (the most helpful, almost available 24/7)… He explained the pros &
cons of the procedure that lasted more than an hour of discussion. I payed
for the meds, while waiting i kept on texting sir john begging not to scam
me but he always makes me calm with his reassurance statement, they even
emailed me my waybill as a proof. Got the meds 3 days after here in Cebu
(that's thursday) did the procedure on Saturday.
Day 1:
✔️ 6am-8pm = light diet
✔️ 8pm-11:59pm = fasting (no food, no water)
✔️ 11:59pm- swallow Mife#1 with a cup of water
– i'm pretty fine with day 1. My only problem is water since i'm a heavy
drinker.
Day 2:
✔️ 12:01am-4am = fasting
✔️ 4am-8am = light meal
✔️ 8am-11:59am = fasting
✔️ 12noon = swallow Mife#2
✔️ 12:02pm = 3pm- fasting
✔️ 3pm-11:59pm = light meal
– Felt nauseous & light headedness, hungry and thirsty. But i managed
not to vomit.
Day 3 BIG DAY:
✔️ 10AM – 4miso insert
– i was alone on day 3. Watching Netflix the whole time. I never
experienced dysmenorrhea before So i don't know what cramps would really
feel. NO SIGNS OF BLEEDING.
✔️ 2PM – 2 Bucal miso
– Felt discomforts and slight pain on my abdomen area. But what made me
more anxious is that NO BLEEDING pa rin. I kept on texting sir John if the
meds are working on me but he told me to relax.
– After like an hour i felt the urge to poop so i did. I thought that
was it but when i checked it's all poop and there's STILL NO BLOOD. Got
pretty anxious again. Texted sir John again… Again, he told me to relax.
But i was already crying maybe its not working.
– No Pain at all and No Bleeding. I stop thinking of it and continued
binge watching.
✔️ 6PM – Modified instruction: Sublingual intake of the last 2 miso tabs.
– I can now sit stand and clean myself. I was still worried because
there's still NO BLOOD even a brown discharge is nowhere to be seen.
When i went to the CR and pee, right there and then everything came out all
at once. I finally saw blood coming out and the POC… immediately sent the
pictures since i am positive na yun na talaga yun and i am also in a hurry
to drink and eat. I was patiently waiting for sir john's confirmation.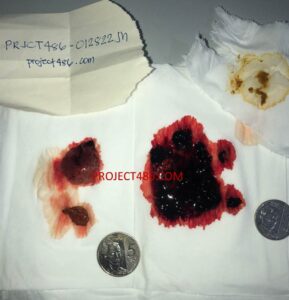 After a few minutes he did text me confirming that i am Officially Not
Pregnant. Felt relieved and immediately asked someone outside to buy me
some Tinolang isda.
"That explains the minimal bleeding and pain. It's early. 4-5.5 weeks. The
smaller the POC, the lesser is the pain and the lesser is the bleeding.
Recovery is faster too" – Sir John.
– it's my first day after the procedure. My bleeding is very light, no
cramps i just feel tired.
I just want to thank team Project486 for your dedication and help. I know i
am not your only patient but you did handle me professionally. I had a lot
of nonsense questions & doubts but you answered them anyway. Thank you for
your help…
I hope and i pray not to meet you again to do the same thing. Sweet goodbye
team! ❤️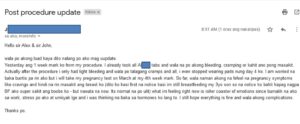 Story no. 4
Severe vomiting puts Cebu patient's medical abortion procedure in jeopardy
story here —>   https://bit.ly/3K0HDWh
Story no. 5
Bought fake meds from an FB seller, a Cebu student failed in her first attempt
Story no. 6
Medical abortion is the final nail in the coffin of an abusive relationship
Story no. 7
She wanted to have a child but finds out partner is still legally bound to his ex
Story no. 8
Abortion in Mandaue Cebu: The whole process was a breeze
Story no. 9
18 year old student is "kinda sad and happy" doing something that "maybe good or bad"
Story no. 10
Abortion in Lapu-lapu City: Young CSR mom relieved but not happy (entry #109)
Story no. 11
Abortion in Danao City: Dysfunctional family and miserable childhood made her fearful of having a baby  (entry #110)