---
Abortion Clinic, Abortion Pills in Cebu City
Warning! : Abortion pill scams abound in Cebu. Don't be a victim. 
More stories: Metro Manila    Pampanga  Bicol  Cagayan de Oro  Davao
More stories of Project 486 patients (medical abortion) from Cebu (click here)
A Project 486 patient  (click here & see story #2) proved she is indeed from Cebu City by sending a short video clip of her hand holding her patient code in front of  a famous city landmark, the Plaza Independencia
—
Hi Sir Alex, Sir John,
Sending my reflection po. I've finally gotten the time to write during this
hectic holiday season. I hope you all have a good and restful Christmas
holidays and New Year.
Best regards,
Mina, patient PRJCT486-112822PS
— start —-
Correct my mistakes while I still can
While I am of age and can support myself, to have a child in the near
future was definitely not in the plan and I am fully aware that I cannot
support it financially, mentally, and emotionally. I didn't want a child
now and my partner isn't also excited about becoming a father.
That's why when I've been delayed for over a week, I start to get worried
that something is amiss. At first I thought it was just because I got
really sick during the second week of my cycle, but I had a nagging feeling
that told me to keep checking since I have always been aware of my cycle
and it has always been regular (almost exact number of days every time).
Plus, as much as I'd like to believe I know my fertile days, I have still
done the deed unprotected.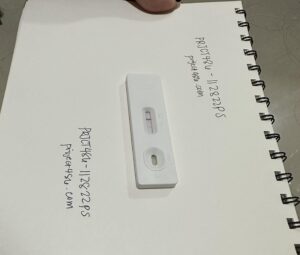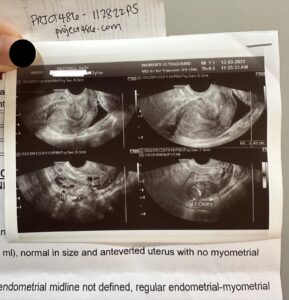 When I got that faint second line on the test, I felt like my life was
crumbling before me. I could barely sleep that day. I kept thinking about
how things would change like a whirlwind if I needed to bring this to term,
but then I also felt the determination that I wouldn't allow this unplanned
pregnancy to change my life so drastically. This is my body, shouldn't I
have a say in what goes on? Shouldn't I also be allowed to correct mistakes
I've made while I still can?
With a little help from an online friend
With that in mind, I turned online to seek advice and help. I read forums
and many articles about my options, and posted questions hoping anyone
would answer me. Someone (and I am very very grateful for her) reached out
to me about Project486 and shared her experience. She asked me to consider
them as an option for what I was planning to do. I decided to give it a
shot and send an email to Project 486 as well, initially just to see if all
she said had some truth to it. I've heard of many scams and bogus sellers
and procedures when it comes to the pills needed for an MA especially since
it isn't allowed in the Philippines, and I really wanted to do it with a
group that could give me the correct pills and procedure.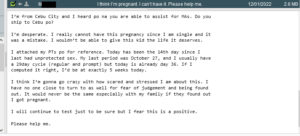 After reaching out through email and getting to consult, my trust in
Project 486 started to build. I felt empowered being given the information I
needed to make my decision (I also verified the information with other reputable
online sources). I had a second consultation and my decision was set to
trust Project 486 and proceed.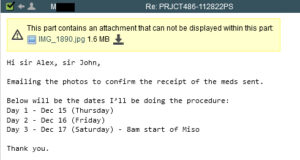 Just follow instructions and nothing could go wrong
When the time came to do the MA, I was so anxious and fearful of the things
that could go wrong but Sir John informed me of everything I needed to
prepare and reassured me that as long as I follow instructions, it will be
okay.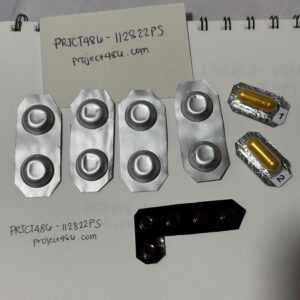 I admit that I was shaking when it was time to take the first mife
pill. I was hurting for having to do this and years of being told to do
this was wrong came at me full force. Thankfully, day 1 and 2 went by
smoothly, with Sir John reminding me of the things I needed to do.
When the big day (day 3 – miso day) arrived, my partner and I were very
thankful for the guidance of Project 486. Sir John was there every step of
the way, even just to remind me to take the glass of water as scheduled. He
answered all my questions and continued to reassure me, telling me to relax
and keep my mind out of it so I could keep my anxiety down. When day 3 was
done and it was time to stand up, I passed some clots and bled a lot. I did
the documentation and waited for them to assess and let me know if I was
done.
That clearance didn't arrive as soon as I had hoped. Even after the clots
passed that day, the POC still couldn't be found.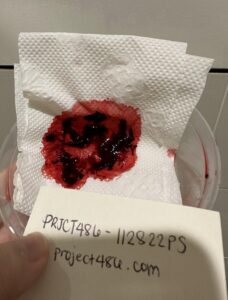 At this point I was getting so worried. What if it failed? What if it was incomplete? Sir John
assured me that there is still enough time to wait for my body to release
the POC. True enough, after a long wait and after many
instances of checking the clots that came out and even discussing
possibilities and options should it be an incomplete procedure, my body
finally released the POC.
<Majority of our patients, (70-80 %) expel their POC within 12 hrs after the 2nd interval of the misoprostol  intake; 20-30% do so within 13-120hrs like the patient in this story ( too much anxiety can delay it, assigned consultants point this out during consultations)   .  About 2-5% pass their POC even with just taking Mifepristone alone , without taking Misoprostol yet (click to see related story) >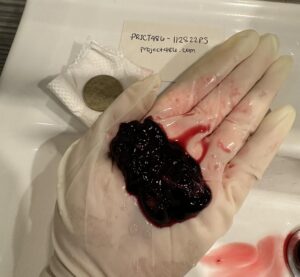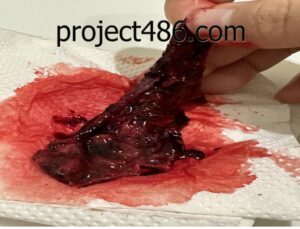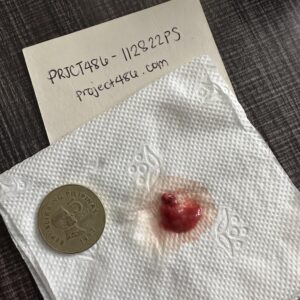 So much weight is lifted off my shoulders
I felt like so much weight was lifted off my shoulders when I got the text
from Sir John saying that they were now certain I was NOT pregnant. It felt
like a mistake was successfully corrected. No one else will be dragged into
this accident, especially not an innocent being who deserves far more than
what I can provide. From the very start, I have felt that it would be
unfair to this being that I would bring it into this world when it cannot
even be given a family and willing parents. Every child deserves a family
that is whole and responsible, capable adults as parents.
Overall, I feel very lucky and grateful to have found Project 486 and to
have undergone this procedure safely with their consistent guidance. I
really couldn't have asked for a more hands-on provider for this procedure.
Yes, it has left scars and a lot of healing is still needed, but at least
now I can move forward knowing the procedure is done. This was such a
costly lesson to learn, but I will forever keep it.
To anyone who will need the same help, please do consider Project 486. The
most important part in pushing through with an MA is having the right meds
and provider to guide you, and if my experience was anything to go by,
Project 486 will surely be able to help. You've just got to give them a
chance.
To sir John, sir Alex, and Project 486, you give women like me access to a
side of healthcare this country refuses to give. You give us hope and
second chances without judgement or ulterior motives, and you are there for
us when we need your help the most. Thank you so much for all that you do.
I wish Project 486 all the best.
—- end —-
And so where is the " abortion clinic in Cebu " as the title suggests?
Many may find  the title of this blog post misleading but it isn't. It was intentionally given that title because most women esp from Cebu use the keyword "abortion clinic in Cebu" when desperately looking for help over the internet. This oftentimes result to them being victims of online scammers. So, we here at project 486 would want to tell women from Cebu and the whole Philippines (and the world) that in the first trimester, the only "abortion clinic" you need when you are living/residing in a very restrictive country  is the combination of right medicines,  genuine assistance and a little bit of bravery  to steer the course of your own future as shown by patient in the story above.
Here are other stories (11 stories) of patients from Cebu
11 stories of Project 486 patients (medical abortion) from Cebu Philippines
---
The story below is about  one of the more recent patients of Project 486 from Cebu, Philippines:
Abortion in Cebu: BPO agent thanks caring strangers for successful medical abortion
Nervous, shock and afraid
This is JULIE. At the first month that I was delayed, I thought it was just normal delay, that I will have my menstruation sooner or later. I should have my menstruation on Dec 8, 2022, but there's none. In the 2nd week of December, I took a PT and it was negative, I was relieved until January came. This time I am doubtful if I'm pregnant, I took PT on Jan 6 and this time it was positive.
I was nervous, shock and afraid knowing I can't support this child. The worst idea came into my mind, my last option. I searched in the internet how to abort the child, still afraid because I know in myself this would be a very selfish act. I found PROJECT486 site and immediately emailed them for help. I sent my PT result and some of the details of my pregnancy.
They were responsive and handed some questions and instructions about the procedure. They also conducted a phone interview to assess the patient (which is me). You would know they are legit because they care about the safety of the patients, they background check their health and any hereditary issues that might affect the procedure, they know what they are doing, they can answer your questions about the procedure.
Genuine and expert guidance
Fast forward, they sent me the medicines, but it took me awhile to do the procedure.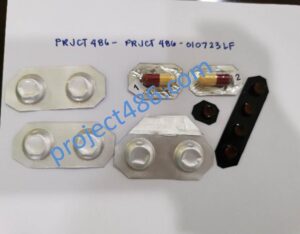 They gave me the timetable on when to drink the medicines and what to do and not to do during the procedure. The timetable generally comprises a 3 day schedule. The fasting part was very difficult for me, no food no water. And the 3rd day, for me was the also a crucial part. On the 3rd day, I cant have food or water for 8 hours, but they have a specific time to drink water a cup of water. I cant also stand, turn sidewards or make any movements while doing the pillow maneuver. I watched kdrama so I can forget the pain, but it is really painful. While doing the procedure on day 3, I was really starving ang thirsty, the worst was the fact that I was alone while doing all of those things. I wanted to cry when I was about to drink the cup of water, because I can't sit or stand. I was hopeless at that time, but later on I managed.
When the time comes that I can now sit and stand, I felt very tired and that something needs to come out from me. It felt like having an LBM, my stomach aches and I fainted in the CR. I can feel the sweat on my shoulders, arms and in my face. I defecate in the toilet even though Sir John told me not to, but my hands are under my vagina just in case the POC comes out, and something really came out but it was all blood clots.
I rested for a while, I was very tired, and it seems like I would collapse after I defecate. But then another thing came out, this time I did it in arinola. I thought it was all blood clots again, but to my surprise I was something with a flesh inside. I took a photo and send it to Sir John.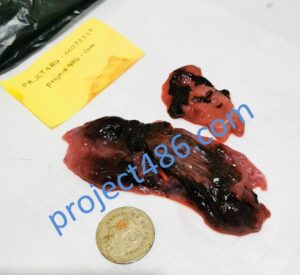 While waiting for their response, I immediately ordered food in food panda while I still have energy and later on ate my dinner.
When Sir John confirmed that it was the POC and I am officially NOT pregnant, I was relieved but at the same time felt guilty. I don't know what to react, how to respond to his text. I really felt the guilt and just cried it out in my bed, until I fell asleep.
Sir John also gave me post procedures instructions which are also for my safety. They would really care for their patients and really give their word on being there until the end. I thank them for guiding me and for being my helping hand in this procedure.
My big thanks to PROJECT 486 !
---
More stories of Project 486 patients (medical abortion) from Cebu (click here)