Dasmariñas, Cavite:
patient's name: Debbie
LMP (last menstrual period): September 15, 2021
date of procedure: Oct 15-17, 2021
—————————-
Hello Sir Alex, I am sincerely sorry for reaching out this late. It's been 4 months since I did the procedure. It only took 1 or 2 weeks for me to recover physically however it took me longer to recover mentally. Ngayon ko lang nakayanang isulat yung experience ko with project486.
It was October 10, 2021 when I confirmed that I was pregnant, part of me already knows na magppositive ako since ang weird ng na fefeel ko lately and before oct 10, i also took PT and may faint line ung results. So my bf tried to search for something that can help us because we both decided na hindi ituloy ung pregnancy because we are financially and emotionally incapable . He then found out about project 486. I read all of the testimonies here and I dont know if  I should say this but I kinda felt comfort  from all of the testimonies because i felt na  I  AM NOT ALONE.
So nung  October 10, dali dali akong nag email and I told sir alex about my situation. I remember na I was so scared and nervous because I thought I didn't get a reply kasi 1 day na yung lumilipas so i decided to write another email and left my number, turns out nasa  SPAM  ko lang pala.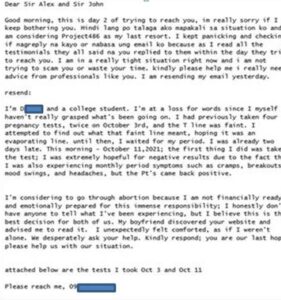 Dear Sir Alex and Sir John
Good morning, this is day 2 of trying to reach you, im really sorry if I
keep bothering you. Hindi lang po talaga ako mapakali sa situation ko and I
am considering Project486 as my last resort. I kept panicking and checking
if nagreply na kayo or nabasa ung email ko because as I read all the
testimonials they all said na you replied to them within the day they tried
to reach you. I am in a really tight situation right now and i am not
trying to scam you or waste your time. kindly please help me i really need
advice from professionals like you. I am resending my email yesterday.
resend:
I'm Debbie and a college student. I'm at a loss for words since I myself
haven't really grasped what's been going on. I had previously taken four
pregnancy tests, twice on October 3rd, and the T line was faint. I
attempted to find out what that faint line meant, hoping it was an
evaporating line. until then, I waited for my period. I was already two
days late. This morning – October 11,2021; the first thing I did was take
the test; I was extremely hopeful for negative results due to the fact that
I was also experiencing monthly period symptoms such as cramps, breakouts,
mood swings, and headaches, but the Pt's came back positive.
I'm considering to go through abortion because I am not financially ready
and emotionally prepared for this immense responsibility; I honestly don't
have anyone to tell what I've been experiencing, but I believe this is the
best decision for both of us. My boyfriend discovered your website and
advised me to read it. I unexpectedly felt comforted, as if I weren't
alone. We desperately ask your help. Kindly respond; you are our last hope.
please help us with our situation.
attached below are the tests I took Oct 3 and Oct 11
Please reach me, 092XXXXXXXXX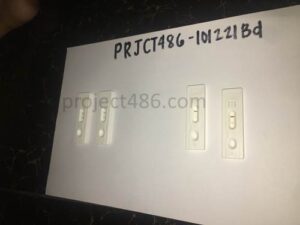 Mabilis ang process ng lahat even the consultation with sir john.  October 14,  I received the package and kinabukasan na ako nag start. Walang naging problem nung 1st and 2nd day kasi sanay naman ako sa fasting.  And sir john is really helpful and kind lalo na pagnag-ooverthink ako, he was there to reassure me na everything's doing fine.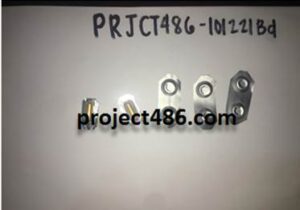 Then the 3rd and last day, where you have to pillow maneuver for 8 hrs, we booked a room kasi mas efficient/convenient.  We started the maneuver by 8 am, hindi naman naging problem for me yung maneuver pero ung pag  lunok ng miso without water ung pinakanahirapan ako. Sir John was really hands-on with me because he was checking me from time to time, reminding me to not move.
Malaking tulong din na kasama ko yung bf ko kasi siya ung nagaasikaso sa lahat lalo na sobrang lala nung cramps ko habang on going yung procedure. By 5:30 pm done na kami sa pillow maneuver and yung unang tayo ko sobrang nanghihina talaga ako na i cant feel my legs and nahilo bigla paningin ko.
I  cant eat pa agad after pero nag wait ako for a while para lumabas ung POC, hindi pa rin ako mapakali after the procedure kasi nag ooverthink ako kung may mali ba akong nagawa or may kulang sa steps or did I move too much, pero shortly after sending Sir Alex the photos of POC, Sir John messaged me that I am not pregnant na.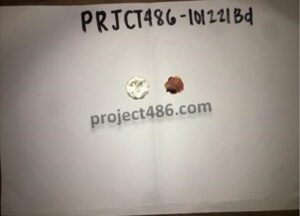 I really dont know what to feel non, hindi ko ma process ung buong nangyari. Then days have passed, sobrang tahimik ko and lagi akong natutulala out of nowhere, I cant focus with anything, bigla nalang iiyak. Until now hindi pa rin ako fully-healed about it pero I  needed to write about my experience baka sakaling maka move on ako
Regardless of what happened I  am really thankful for Project486 for giving me a chance. To Sir John, thank you so much po sa palaging pagreply sa mga sunod sunod na tanong ko. Thank you.