Abortion pills in Metro Manila saves single mom
Abortion pills are the best option
The abortion pills Mifepristone and Misoprostol (Cytotec) are the combination of medicines used by a single mother of two from Muntinlupa City, Metro Manila, Philippines to successfully  terminate an unplanned pregnancy after failing to do so with various "natural options".  The burden of raising two kids from a previous relationship and the uncertainties with a new lover  prompted her to decide so.  Here is her story.
Warning:  Do not take the insights or opinions  of patients in their stories as medical advice. Consult with a medical professional for more accurate information about the medicines and the medical abortion procedure.

---
August  27, 2018
Mena, 32, Marketing Executive,  Patient code: PRJCT486-081218gk1
Ayala, Alabang, Muntinlupa City
Metro Manila, Philippines
Sir Alex:
I have attached my personal account on my experience with Project 486. I believe you will be posting this. I hope my details ( name, age, occupation and location) will be withheld or may be changed for confidentiality.
There is no exact word to describe the feeling and relief I had after the successful procedure. Thank you so much for all the help and guidance you have extended.
More power!
---
Motherhood Challenges
One Love Lost after Another
I was faced with the challenge of motherhood three times; the first, although shrouded with fear and doubt, came into full term; the second, although within the bond of marriage, was voluntarily aborted because we both cannot sustain an addition to the family; and the third pregnancy, although already on a rocky marriage, also came to full term, away from the indifferent husband. The children grew up with me, their father distant; in the end, the marriage ended.
One love lost after another, I was bound to live my life and focus on my career. Then I met this guy and we became constant confidante. We hit it after a couple of months of being chummy. I was literally "dry" for years and the idea of a younger and aggressive guy seems pretty much exciting. And at just one night, I had no idea, totally oblivious of the problem that was coming.
We had this no label kind of relationship. We spent time together but I still end up confused after. More so when I realized I was delayed from my monthly menstruation.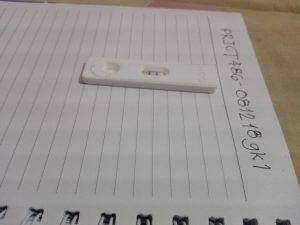 Abortion Plans: Natural Options
Immediately, my mind went to work through the whole situation and I created my own plan and options. It was not easy weighing on things as I am on a very complicated situation. I could not count on the relationship or the guy to take responsibility and I have my career waiting to boost anytime.
Initial plan was to terminate the pregnancy the soonest. So I scoured through the web and found the more natural options: vitamin C overdose, parsley, pineapple, raw papaya, etc. all incorporated into the diet. Another week passed, I considered Dong Quai into the regimen. But everything were in vain. Back to the web I flipped through blogs, and that's where I found Project 486.
'Abortion Pills' is the Answer
I was afraid that everything I have taken to induce menstruation may have bad effects on the baby so I pushed through with the plan of terminating the pregnancy without the father knowing. I went
on with the Project 486 consultation and was well on my own to do the procedures. Except for the slight delay in the delivery of the meds (not Project 486's fault, just some logistics problem of the courier) , the plan went on without a hitch.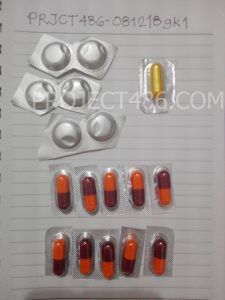 Day 1 on low folate diet was a struggle since food is everywhere in the office. Determined not to fail the plan, I mustered all strength to control my binge eating habits only to endure another "hunger game" by night time before the Mife ( Mifepristone ) intake. The second day was another challenge but I was more adamant for it to end so I could get on with the vaginal Miso (Misoprostol or Cytotec) .
And so with all systems a go, I prepared all stuff, cleaned up and finally introduced both Miso as instructed. I did the pillow maneuver and went on to sleep until my alarms sounded at 2AM for the Ibuprofen intake and at 4AM for the first buccal Miso. Within those times, I already felt the contractions.
Around 8AM, in time for my 2nd buccal Miso, when it was okay for me to sit and stand, some liquid gushed through from down there and I could feel some solid things coming through. I went to change diapers and laid the used one on the floor to check. And there it was covered in blood, the POCs (Products of Conception)  which I think were the gestational sac, some soft tissues and a little one with somewhat eyes on it that I could barely identify perhaps as the fetus. I cleaned them up, placed them on a clean tissue and took some pictures for documentation. I emailed the pictures and waited for confirmation.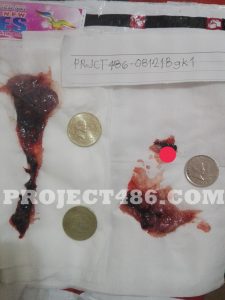 Within the day I received confirmation from Sir John that the procedure was a success and I am now officially NOT pregnant. Relief came through me like it was all I have long waited. I was glad to have done the procedure earlier to cut short the agony and stress of being pregnant and confused. I was glad Project 486 is here to help troubled mothers like me. It may not be the right option there is but it is the most practical and safe especially because of the sad fact that abortion pills in the Philippines are prohibited by law.
Having a consultant all through out the process is very much reassuring for me who didn't have a companion to share with me the physical, emotional and psychological pain of going through the process with a heavy heart. I honestly love kids but I wouldn't want bringing another one into the world without a complete family, or worst, a baby with birth defects because of the complications from earlier intakes I did. It's the most I could do at the most critical moment.
I am well on my way to recovery now. My only prayer is complete healing and recovery. I would still want to create a family in the future, if God allows everything in my life to be settled. As for me, I have to focus on my career and kids and fix whatever I can salvage from this current relationship I have. This episode of my life may be something I will forever keep on my own. I am just glad I could look further ahead of me now because of the very significant choice I have made….and that is to trust Project 486.
More power to the people behind Project 486!
—
This is the 66th blog entry that features a patient's reflection on her  Medical Abortion using the abortion pills  Mifepristone and Misoprostol / Cytotec in the Philippines.
Here's another story from Metro Manila:
FB seller scammed a working student with ineffective abortion pills