WARNING:  At the end of the day, it is the authenticity of the medicines  that matters, not the seller's claim of being from the health sector.  Anyone on the internet can easily claim to be a health practitioner but not anyone can provide definitive proofs that they are indeed selling authentic medication. Anyone can easily be a copycat of a  group featured in some reputable news site  and any group can easily deceive journalists of being authentic.
Even if they claim to be doctors and nurses, you must request for pictures (from different angles) of the medicines. Tell them to put a piece of paper with handwritten code – a code that you will provide them like some alphanumeric combination ex. A54  or Meds for Ana88 . As for us, the pics of our meds are all over our web blog but we will be more than willing to provide pictures with handwritten codes too. Mifepristone  from Project 486 has these words  "Mifepristone" and "200mg"  engraved (nakaukit)  in its aluminum blister plus the brand and other info printed on it .

If any of the medicines (even just one, esp Mifepristone)  in the picture(s) provided by your seller is  not in its proper packaging (no blister pack, "nakahubad", "walang banig");  if it is just placed  in generic plastic, envelop or zip lock;  if the so called Mifepristone tablet/s   is/are   pristine white   — then   you  are about to be scammed by a seller of fake medicine.
For the procedure to be safe and effective, it should be done with both Mifepristone  and Misoprostol. For starters Mifepristone is yellow (more like light yellow)  and Misoprostol is white. Know more, click here .
This simple information  will not only save you from being scammed, it will also save you from a potentially dangerous non-standard procedure that lacks authentic Mifepristone. Mifepristone is what makes it safe, efficient  and effective 
Here is the story of Aurora, who was  provided questionable medicines by some people claiming to be a group of doctors. Do not be blinded by such claims.  Anyone can claim to be anything on the internet. 
We decided against dropping the specific name of that group as we are giving them the benefit of the doubt or the chance to rectify their errors. Either  they are just  copycats of some legit  group or they are indeed the 'legit group but facing logistical challenges in acquiring legit yet reasonably priced Mifepristone.  If someone from that group is reading this (this also goes to others who sell  fake mifepristone or just sells misoprostol) , consider this as  an open letter:
Send us feelers, we are more than willing to help you get affordable and legit Mifepristone at very affordable/reasonable prices. More and more victims of your  non-standard procedures (no legit Mifepristone) are coming out  of the woodwork and you and your past clients, more than anyone else  know that your medicine packages have a very high failure rate. Aurora is not the first, we had a lot of documented stories from your past patients. Your fake Mifepristone pills are putting the lives of a lot of Filipinas in danger. This has to stop.  You are already endangering your liberty as it is, you might just well do it right.  Be on the right side of history.   Again, contact us and let's be partners in providing safe and effective procedure and medication to women  in this very restrictive setting.

Now, here's the story of Aurora

---
–
–
I have always been pro-choice, but it never occurred to me that the day would come when I'd be the one choosing. Until this day–waiting for my second period after abortion–I can still recall the moment I made a choice but then realized that the choice was more than just a mental state or decision. It was most, if not all, a matter of accessibility.
When we found out that we were conceiving, my partner and I were just new to our jobs. We cannot afford to bear a child and we are just not ready. Most of all, I do not see myself as a mother. For these reasons, it is better for us to end it than to repeat a cycle we are already in.
I was not as surprised as my partner when two red lines appeared on the pregnancy test. I had all the symptoms after all–weight gain, bloatedness, hot flashes, and the period delay. Scientifically speaking, even our method of contraception could ideally lead to this. Even after the many times we had "successful" unprotected sex in our long-term relationship, it does not indeed mean that it is safe–a lesson we were both too stubborn and late to learn.
The surprise I didn't know I had was when the first ultrasound result determined a 6-week gestational sac.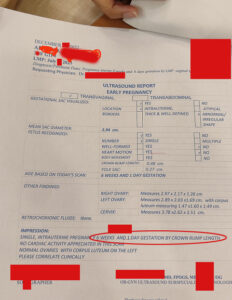 We both know that the further it gets, the more complicated the procedure will be. This panic had us searching all over the net until my partner had a lead to a "group of underground doctors". They claimed to be  the same group mentioned in a popular news site <editor removed the specific name>(Note: this is not yet Project486) . I read all the files they had and told my partner I wanted to trust them. We poured all of our few month's savings and even some borrowed money into their overpriced medicine which came to us in unsealed small envelopes. My partner was already doubtful, but what choice did we have after already paying more than what we can afford.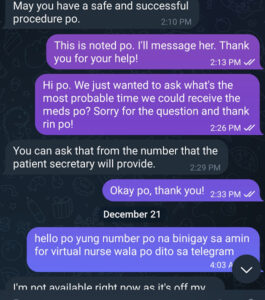 We rented a place to do the procedure. We took the Mifepristone and Misoprostol as instructed and waited for hours. There was bleeding. It was thick but not heavy. It did not even full the pads I had. We sent photos to the said group of online doctors (again this is not yet Project486), and they told us that the procedure looks incomplete. Part of the files they sent us includes the list of packages one can avail of. We did not get the mentioned bedside option where a minor procedure will be done for free in case of an incomplete abortion from the medicines bought from them. Checking on our leftover savings, we can no longer afford an emergency surgical procedure or even another set of medicines based on their list. The appointed online nurse that we had told us to try walking. I did. A lot of times and kilometers. Still, no signs of a placenta or POC.
We waited for a few more days–for more bleeding and any signs of complete abortion. As nothing comes after and the bleeding starts to subside, we scheduled another ultrasound.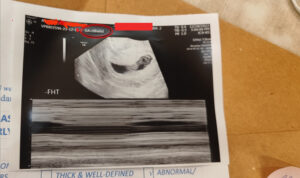 The results showed 8 weeks embryo, deformed, and still with no heartbeat.  The procedure was confirmed to be incomplete. To continue pregnancy at that point can lead to possible complications and defects. Still, we are not yet ready, and if we ever decide to have a child in the future, we wanted to give him/her the best and not this.
My partner once again searched for more information. I was also in contact with Women Help Women through email, an international organization that helps women like us by answering questions and misconceptions about abortion. They guided me like a friend; however, I cannot do some of their advice as the situation here in our county is different where the choices we make are condemned–either way. Finally, upon my partner's searching, a good soul who stands with us and whom we're beyond grateful for shared information regarding Project486. We got access to its website and read the articles available. They seemed legit, but it was difficult to trust again after what happened, but again we needed to take a risk and thankfully we did.
We emailed Proiect486,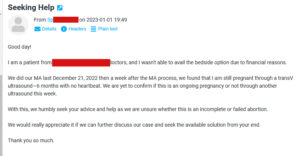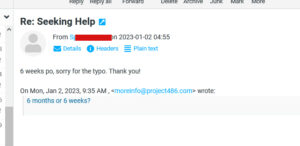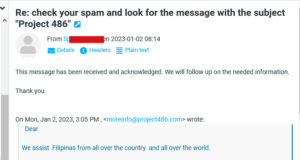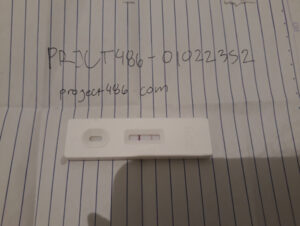 and we got in contact with Sir John through Sir Alex. We talked for a while on the phone for consultation. At first, it was difficult for me to believe that they were legit. How could someone be spending so much time helping women with their abortion? It was Sir Alex and Sir John–they were that kind of people. The phone call took a while until the information we needed about the medicines was sent to us. We got the discounted package and they even helped us through the shipment process. The package contains 2 Mifepristone and 6 Misoprostol in a sealed <all pills complete with blisters, labels and all> and discreet manner. We were no longer able to take a photo of the first Mife as we needed to consume it immediately based on our timetable.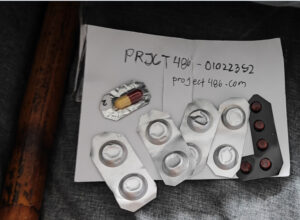 The time passed when I needed to take the second Mife. I took it casually as most people did during the same procedure, and like them, it did not feel anything different from the first Mife. My partner and I also planned for the Miso Day when the bleeding is expected to start. We agreed that we'll meet the next day to take it as he would nurse me until all the products were pushed after the medications…
Night came, the same day I took the second Mife, I started bleeding. It was light and pinkish. I did not mind at first and just put on the pads I had. Midnight came, and this time, big clots of blood were coming out. Every moment I took my underwear down to check on the toilet, the clots of blood slapped the floor, falling out uncontrollably. Panic rushed through me. This was supposed to happen the next day, and privacy was something I cannot afford in our home. I came back and forth rushing to the comfort room and changing pads every hour. I only had regular pads at that time as the things I needed were planned to be bought the next day on Miso Day. This was not what and when we expected it. I tried to cover up and manage the bleeding on my own as no one should find out, especially not my relatives whom I stayed in the same room with. I pretended the whole time that it was just regular heavy menstruation. However, still, the bleeding won't stop. I was reporting to my partner every now and then but me leaving the house at midnight would be more suspicious. He tried calling Sir John at 3:00 AM, and we were thankful he answered and told us that the bleeding was normal and that I might already be having the abortion at that point. A few hours till morning and more trips to the comfort room came–and at one of them–more clots were pushed out. When I tried to wash my under, there, I felt something. I gently pulled it and fished it out of the toilet.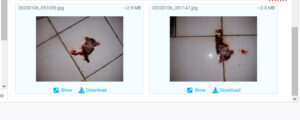 Based on what I read and saw from similar experiences, I thought that it was already it, but confirmation was still needed.
I slept for a few hours until morning. I tried my best to get up and focus on our plans for Miso Day. My partner and I managed to be together this time and consulted Sir John once in a while. After some exchanges, he said that they could not give an official evaluation yet as I was not able to take photos due to panic and secrecy. He advised us to still take the Miso to be certain that everything was pushed out. We did. We still did the entire process to be certain rather than be sorry. There were only 2 batches of photos I was able to take and send but none had the code. Despite this, Sir John made an effort to ask for the photos from Sir Alex just to give us an evaluation, though not yet official, but something to ease our minds. He said that based on the previous patients, he thought that it was already a success, but noted that the only way we could be certain was to wait for the bleeding to stop and get another ultrasound as I missed some steps due to the incomplete photos. From here, we completely understand and appreciate including the extra mile he needed to take just to ease our minds from the weeks of stress and panic. We did what he said and took another ultrasound test which reported a negative pregnancy.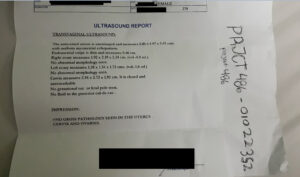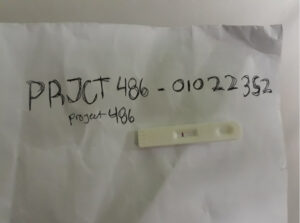 Overall, Project486 is a group to trust and support. Too good to be true as they seemed, they are legitimate and true to their mission. They are not just some people who sell you medicines and leave you after, but they genuinely care for their patients in every step of the procedure. They make themselves available to those who need them and make the choice accessible to those like us.
To Project486, please don't ever change. Please don't be like the ones we talk about over the phone, the ones who were blinded by business and the trust they gained from people. Even over the years, please don't be like them as people, especially women need you. The country needs more projects like this and more people like you. Thank you for choosing to save us and for making that choice accessible. Hoping that you are well too today.
Edit: I already had my second period after the procedure. On its third day, I went to the Likhaan Center for Women. I finally got my birth control.
– Aurora