To see latest blog entries, just keep scrolling down. Beware: Cebu Abortion clinic male nurse rapes patients while bf's out to buy supplies

Realization
From the beginning, I was so sure that maybe – hindi ako mabubuntis. Because it was not our first time accidentally getting the semen inside me. So, I was determined na baka sa pagkakataon na 'yon na hindi ulit ako magiging positive sa test. However, I was mistaken by that thought. The following weeks after our last intercourse, I suddenly felt so nauseous and tired. For the first time, nakaramdam ako ng kutob at takot na baka symptoms 'yon ng pregnancy. Pero pinilit kong isipin na baka pagod lang ako dahil nagwowork ako and at the same time pumapasok sa eskwelahan. But as time goes by, my worries really get the best out of me. Takot na baka ito na 'iyong kinatatakutan ko na mangyari. So, I started searching through multiple websites about pregnancy symptoms and all of the list that was mentioned – nararamdaman at naeexperience ko lahat kaya ang laki na lamang ng takot at kaba ko. I didn't know what to do. Lalo na't estudyante pa lamang ako, I am actually on my fourth year sa course na kinukuha ko kaya naman sobrang hirap para sa akin na baka tama iyong kutob ko na buntis ako. That's why, una kong sinabihan ang partner ko sa nangyayari sa akin. And doon namin napagdesisyunan mag take ng pt ( we took the test ng dalawang beses just to make sure) and after taking it, we both received that it was positive.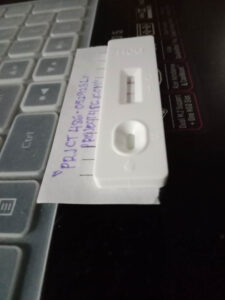 Our worst fears came and realizations hit us hard. We were so scared – I was so scared because it was my first time. And yes, I regretted it. Nagsisi ako na pinangunahan ako ng matinding emotion nung araw na iyon, nagsisi ako kung bakit hindi ko inisip masyado ang magiging consequences ng mangyayari. Fortunately, I have my partner beside me all the time. Even though, we are both in a long distance relationship, he did his best to comfort and be there for me kahit na alam kong maging siya hindi malaman kung ano gagawin.
Decision
Deciding on what to do and what choice to make was the hardest part throughout my pregnancy. We wanted to abort the baby. But at the same time, we wanted to keep it because it's our first child together. Sobrang hirap lalo na't hindi namin plano talagang bumuo ng bata. We know that if we'll ever keep the baby, lots of hardships and sacrifices need to be made. We tried so hard to think of numerous possible ways that we can keep the baby without affecting my studies – pero hindi talaga kaya. Patapos na ako ng pag aaral, hindi ko kayang humarap sa loob ng eskwelahan na malaki ang tiyan ko. At kung titigil naman muna ako, naisip ko na wala na rin akong magiging lakas ng loob na ituloy ang pag aaral ko in the next school year, hindi ko kayang ipagpatuloy dahil pakiramdam ko madedepress ako ng sobra, knowing na iyong mga kabatch o kaibigan ko ay nakapagtapos na. Most importantly, we don't want an unplanned pregnancy because we are still not physically, emotionally and financially ready. Lalo na't pupunta at ipagpapatuloy ng boyfriend ko iyong kanyang pag aaral sa ibang bansa. We don't want to be part when I'm pregnant, ayaw niyang mag-isa kong dinaramdam at dinadala ang hirap kung nasa malayo siya't hindi niya ako maaalagaan. Hindi niya gustong hindi maranasan ang bumili ng gamit at damit ng bata, first birthday, first word spoken, etc. And I also don't want that. I don't think I can do it by myself without him. The both of us want our first unborn child planned through and prepared – that we both wanted it. And so, we decided to abort the baby.
Right or Wrong
We won't ever know if it's right or wrong to have an abortion. When we tried telling our situation to one of my nieces that I considered my older sister, she told us that we might consider keeping the baby because she doesn't want us to feel devastated and depressed in the end if ever we'll regret terminating the baby. Lots of conflicted emotions surged through me. Questions like: "I-keep ko na lang ba ang baby?" "Siguro kakayanin naman namin kapag pinagpatuloy namin?" "Pero paano ang future ko? Future namin?"
To the point that I started feeling so miserable and discouraged. Nawawalan akong gana sa lahat. Lalo na't nahihirapan din ako sa mga symptoms na nararamdaman ko sa katawan kaya naman nagsabay-sabay lahat. After days of contemplation and unsure thoughts, we finally decided what could be the next step that we would take. And for us, I think we chose the right decision for ourselves. And that was to abort the pregnancy. It was not easy. It was never easy since ako ang nagdadala ng bata. Araw-araw pinipilit kong hindi ma-attach sa batang sinapupunan ko para kung sakaling dumating araw na piliin naming ipalaglag siya ay wala akong maramdaman. Sobrang hirap man pero need naming gawin kung gusto naming mapabuti ang lahat. Hindi rin namin gusto na dalhin siya sa mundo na walang kasiguraduhan kung kakayanin namin siyang palakahin na wala lagi ang ama ng bata. Marami pa kaming plano ng partner ko para sa aming dalawa, marami pa kaming gustong gawin. At hindi pa kasama doon ang pagkakaroon ng anak, kaya naman pinili namin ang sa tingin naming tama.
Help
Throughout those days, we had a hard time finding a genuine consultant or doctor that could help us since we don't know the right medicines or procedures to take for this kind of predicament. We searched on google and even facebook, but I told my partner that I felt sketchy to those people who owned pages on facebook because it doesn't seem like they could really be telling the truth to us. And he also felt the same way so, again, we just kept on looking and looking. Until when my boyfriend found Project 486, he told me about it – the page and the stories of all the women who had the same situation with me that made me more curious and hopeful that we could finally somehow get through the situation. We emailed the account and after sending the message, not long after that we received a response from them.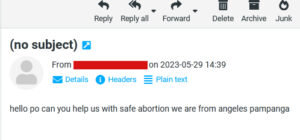 Just from the way they first handled us was already enough to convince us – that at long last, we finally found someone that could help us. Within that exact day, we had a consultation session with Sir John that even made us more relaxed and at ease because we've been so tense, stressed and troubled for the past few days and weeks already. He was so informative and thoughtful of us when we were talking with him, he enlightened us about the things that we need to know, learn and understand. I felt like we could really trust him, and we seriously did. And we never regretted trusting them.
Procedure
After receiving the package of medicine, we set a date when we can start the procedure because my partner and I had a really hectic schedule on our end.

I was 7-8 weeks pregnant at the time so I was also worried about it, I kept on overthinking and asking myself things like what if the procedure wouldn't work on me and all. But thanks to Sir John and my boyfriend who kept on supporting me. Actually, the procedure covers three whole days of treatment and so the first and second day were the days where it's quite bearable for me because I just need to eat light meals and fasting. But that was still difficult because when you are pregnant, you always feel hungry and nauseous. Hence, it was hard for me to prevent myself from consuming food. Yet, I kept reminding myself that I need to do this if we want the procedure to be successful and thus, I held myself back together. I was just really thankful that I have my boyfriend throughout those days because I can't really do it without him.
When it comes to the third day, that was the most difficult and painful part of the procedure because you must have a strong mind, patience and determination in order for you not to succumb into giving up. Once I have consumed all the medicine, just after a couple of hours – I started feeling hard cramps on my stomach, extending through my back and pelvis. I couldn't even sit, stand or lie sideways because I need to maintain a 'pillow maneuver' position for over 8 hours. Therefore, it was really hard and tiring. Gladly, I was permitted to take a pain reliever to somehow ease the pain but that wasn't enough because everything still hurts and aches that time. If it wasn't for my boyfriend, I think I wouldn't be able to go through it. He helped me so much. He took care of me very well and I couldn't ask for more. As soon as I started to feel like something's coming out of me (blood clots/tissues/substances), that's where I began feeling a bit at ease. Closing to the end of the procedure, as soon as I have the permission from Sir John to stand and wash my area – that's when the POC finally came out.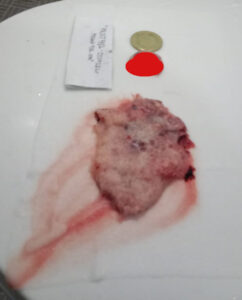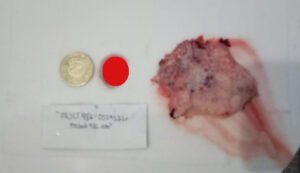 Honestly, I didn't want to look at it because it would just make me feel emotional. I don't want an image that would stay forever inside my head. That's why my boyfriend took over and told me that it was going to be fine, and that he will handle it from there.
But as I lie back down from the bed again, I can't help but to let the dam inside me burst. I thought that it would not affect me anymore, I thought that I could manage it but that wasn't the case at all. It was heartbreaking and excruciating. I was crying. I was trying to hold myself back from making any sound at that time because I didn't want my boyfriend to hear me. But then, I could also hear him sobbing inside the bathroom. It hit me harder, I was too focused on myself that I didn't notice that my boyfriend was also having a hard time. He was the one cleaning our baby up, rinsing the blood and other stuff. It was difficult for him too because he could really hold and see our baby like that. I was so sorry at that time and even till now. But I will forever be grateful for him.
After the gut-wrenching procedure, we just hugged and consoled each other. Yes, we did feel sad and dejected but at the same time, we could finally feel the relief – relief that we got through it together because we don't have to experience depressing days and nights together that are always constantly tied by stressful thoughts and feelings anymore. And of course, we wouldn't have the proper way to do it if it wasn't for Sir John who guided us through the whole process.
Aftermath and Message
Afterwards, we decided to bury our child in a plant so that in that way, we could still see it grow. Sobrang daming nangyari. Mahirap. Hindi madali ang lahat lalo na't buhay ng bata ang nakasalalay sa desisyon namin. Pero hindi rin namin gusto kung dadalhin namin siya sa mundong hindi naman talaga namin sinasadya. It's unfortunate and saddening, but abortions are sometimes necessary for women like us who are not ready yet. So, is it wrong to have an abortion?
"Abortion is wrong. It's like killing a human being."
"You should keep it. They did nothing wrong."
Words that you could always receive once you shared your worries to those people you think will understand you but really, they don't. These people fail to take pregnancy risk into account. Pregnancy carries a variety of dangers for the expectant mother, such as illness, infertility, and even death. It is disrespectful to the mother's life to make a woman go through pregnancy and childbirth via force. Women are human beings. For me, it is immoral to force a woman to continue pregnancy against her will, often at the expense of her own life. Childbirth is risky and painful. Nobody else should be forced to go through it. Thus, I believe that it is very morally wrong to make a lady bear a pregnancy she doesn't want or she isn't still ready for.
Some people hold the opinion that all choices for abortion are evil. But who are they to tell us what's good and bad? So, I just wanted to share that we shouldn't be chained and dragged down by the opinion of others and instead choose and think what's best for you because you are the one who's going to carry that for the rest of your life. And so if you are still hesitating (but you already decided to have an abortion) then I could say that Project 486 would not disappoint you at all. Thanks to them I got through this with my partner.
But all in all, what we have seriously learned from this experience is that we should always practice safe sex in order for us not to be in a situation that is as hard as making a decision like this. Yes, sex is good but it is important to look after yourself and your future as well so that we would not regret the things that we have done.
That was all. And that was our story. Thank you so much, Project 486. We are deeply grateful for your kind help.
–  Mila and Nilo,  Angeles City Pampanga
Here are other stories of medical abortion of past patients  from Pampanga:
Abortion in Angeles City: She accompanied her friend before, now it's her friend keeping her company during her medical abortion procedure
Abortion in Pampanga: She has very low tolerance for pain and yet she bravely did it and  was successful
Abortion in Pampanga: Couple were inspired by the stories  past patients to trust Project 486 and did not regret it
Abortion in Angeles City: Pregnancy was untimely because she was planning to work overseas